Accessibility is extremely important to us as we always want our shows to represent our inclusive community. We're here to offer support any way we can. Please contact the city team as soon as possible so we can provide more info and discuss how to best accommodate.

When an event is accessible, it will have a symbol on the event page that looks like this: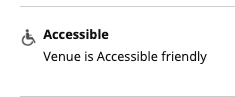 We would love to book more accessible venues, and we're currently working to set new goals to improve this. At times it can be a little difficult, as the spaces for our shows are nontraditional, but it's something we're always thinking of when booking a venue. We plan to continue increasing the number of accessible venues globally and welcome any additional feedback you have along the way.